What is a Reference Entry?
A reference entry works in conjunction with an in-text citation to show the reader exactly where to get the source's document that you have taken information from. A reference entry is mandatory for any taken information, as this is a way that you are academically giving credit to the author for his/her/their ideas and research.
If you have an in-text citation but are missing a reference entry, or vice versa, your assignment is deemed plagiarized. Always check to ensure the first surname or first key word listed in a reference entry has a matching in-text citation using that same surname or key word within the body of the assignment. The reference entries are formatted in a specific way on the References page: see section "APA Assignment Format" for formatting instructions.
What Information Does a Reference Entry Contain?
The information given in a reference entry will differ, depending on the type of source the taken information has come from. However, you can pretty much assume that the following information will be required in any reference entry (plus or minus some details depending on the source type):
First Name's Initial and Last Name of Each Author
Title of the Article
Title of the Standalone Book
Title of a Periodical
Specific Date
Publisher's Name
Page Range (for an article)
URL
General Guidelines When Finding and Formatting Reference Entry Components
Please see the following tips surrounding compiling and formatting components in a reference entry.

How to Format the References Page
An APA references page has mandatory formatting, which requires attention to detail. Follow the short instructions in Figure 24 or the long instructions in Figure 25 to properly format your References page. If your References page does not have identical formatting to the example in Figure 23, you have made a mistake.
View this video on how to format your references page.
Format Instructions for the References Page
PLAGIARISM TRIPLE CHECK!
If you have not found an in-text citation for each reference entry, you have made a critical mistake and must do one of the following:
A)     input the missing in-text citation
B)     double-check to ensure you have a properly formatted in-text citation for each reference entry
Once you have confirmed you have at least one in-text citation for each reference entry, your references page is complete. The format should look identical to the References page in Figure 9.
Reference Examples & Guidelines
Use this section to mimic the format of the reference entry by the type of source that you have taken information from. If you do not see your type of source on the list, consult the APA Manual: American Psychological Association. (2020). Publication manual of the American Psychological Association (7th ed.). https//doi.org/10.1037/0000165-000
Journals
Article with One Author – Basic Format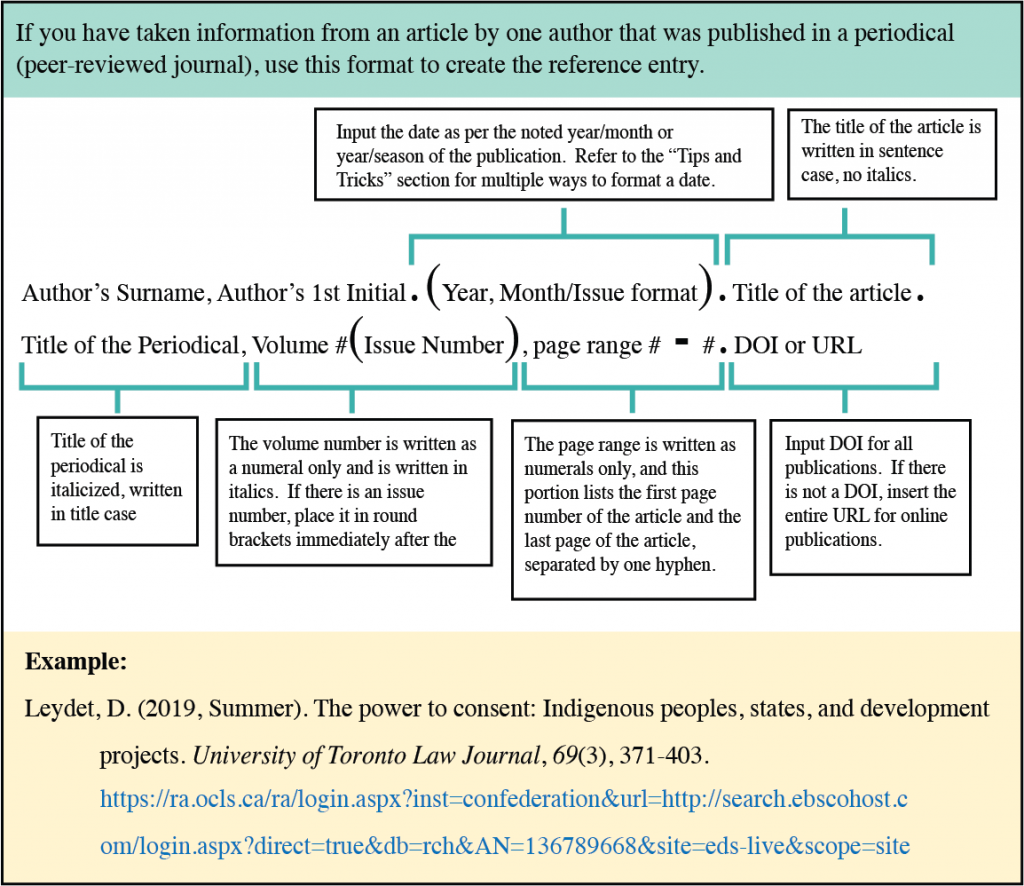 Article with Two Authors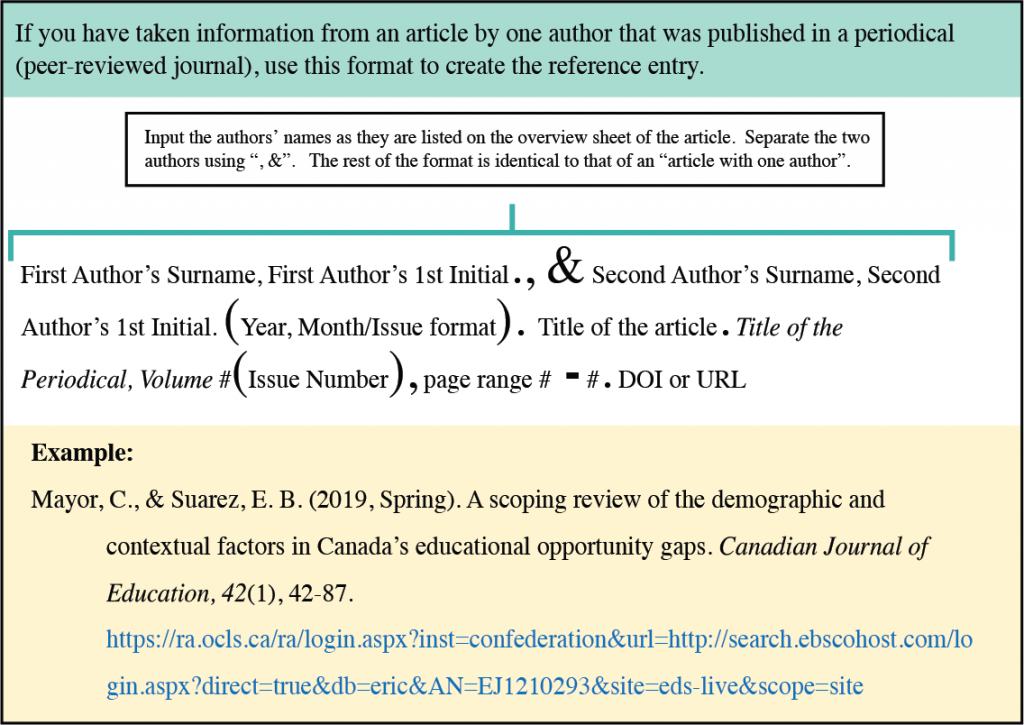 Article with Three to Twenty Authors
Article from a Special Issue of a Journal
Books
Online Book – Basic Format (EBook)
Book by One Author (hardcopy)
Book by Two or More Authors
Book with an Author and a Named Editor
Book with an Editor(s) and Without a Named Author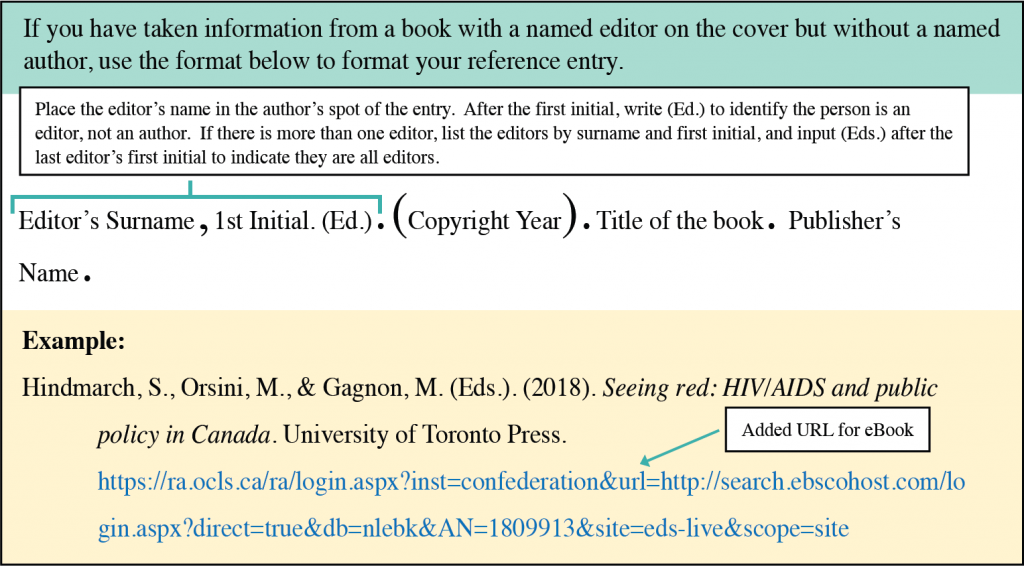 Book that has been Translated
Book within a Series of Volumes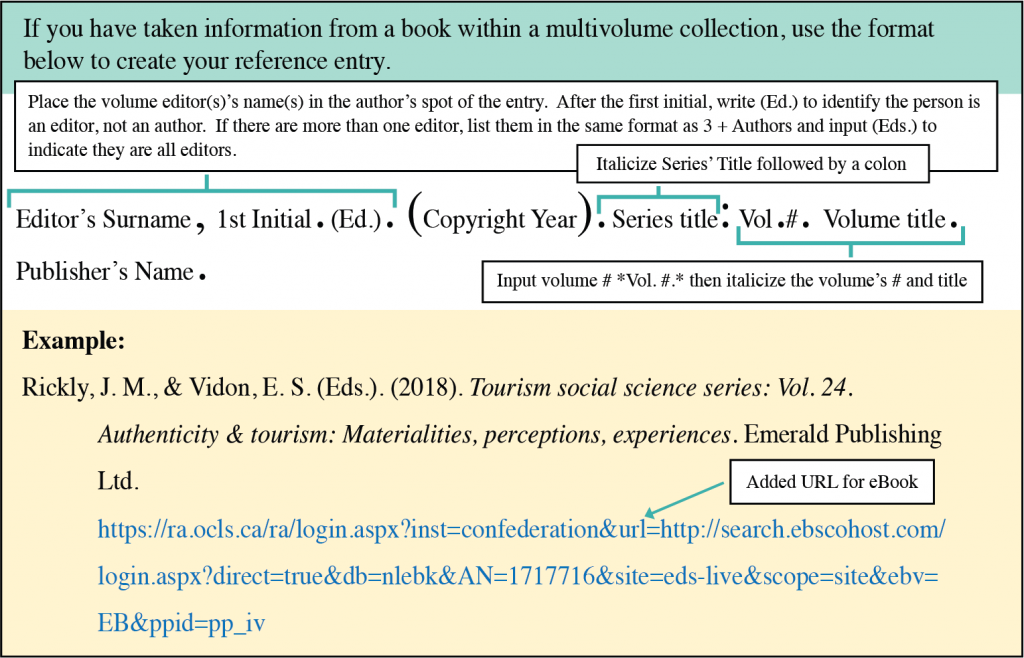 Book with an Edition #
Specific Chapter or Article from an Edited Book
Works with the Same Author and Same Publication Date
Ancient Greek or Roman work
Magazines
Online Magazine Article with One Author – Basic Format
Online Magazine Article with Two Authors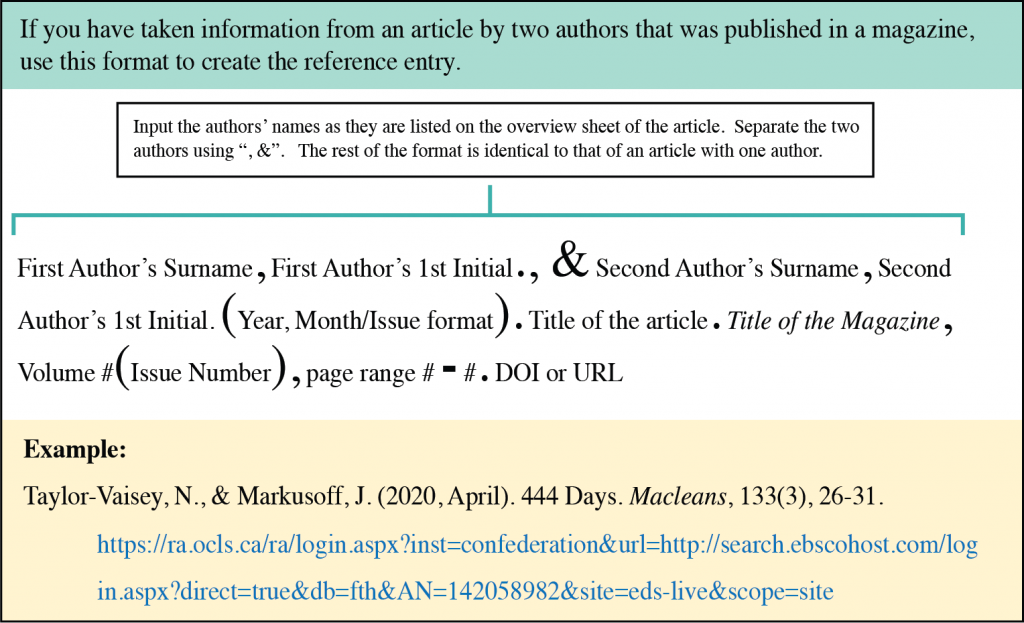 Online Magazine Article with Three to Twenty Authors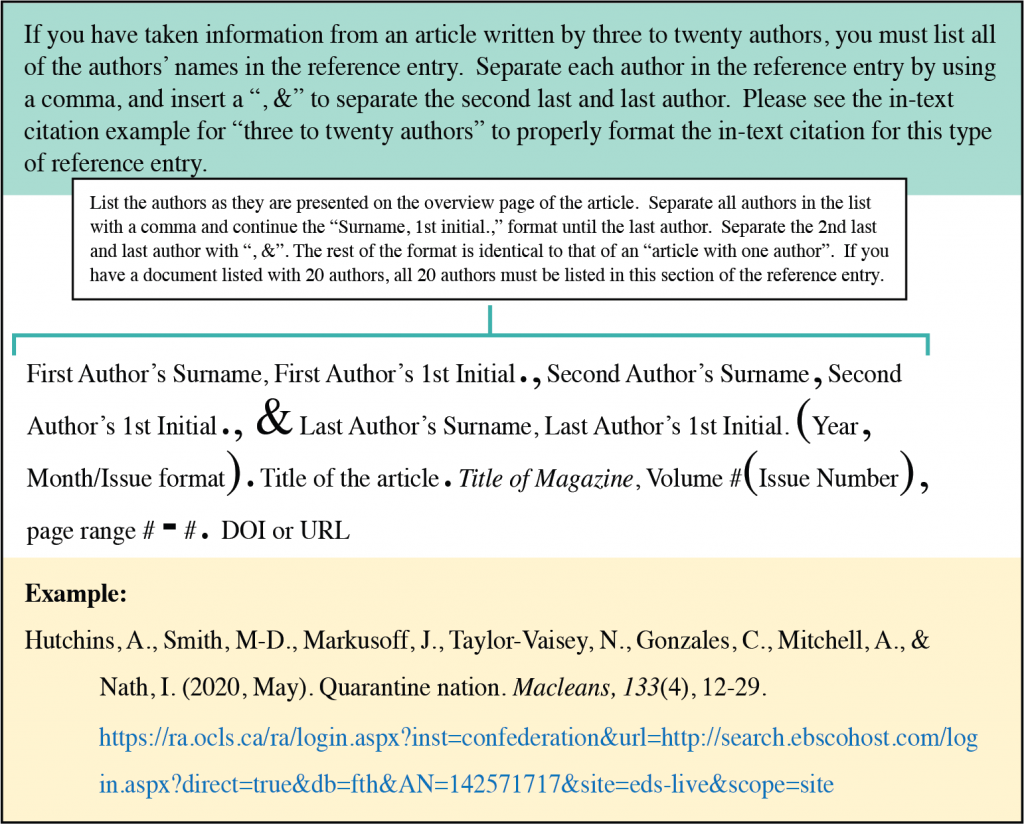 Magazine Article with an Unknown Author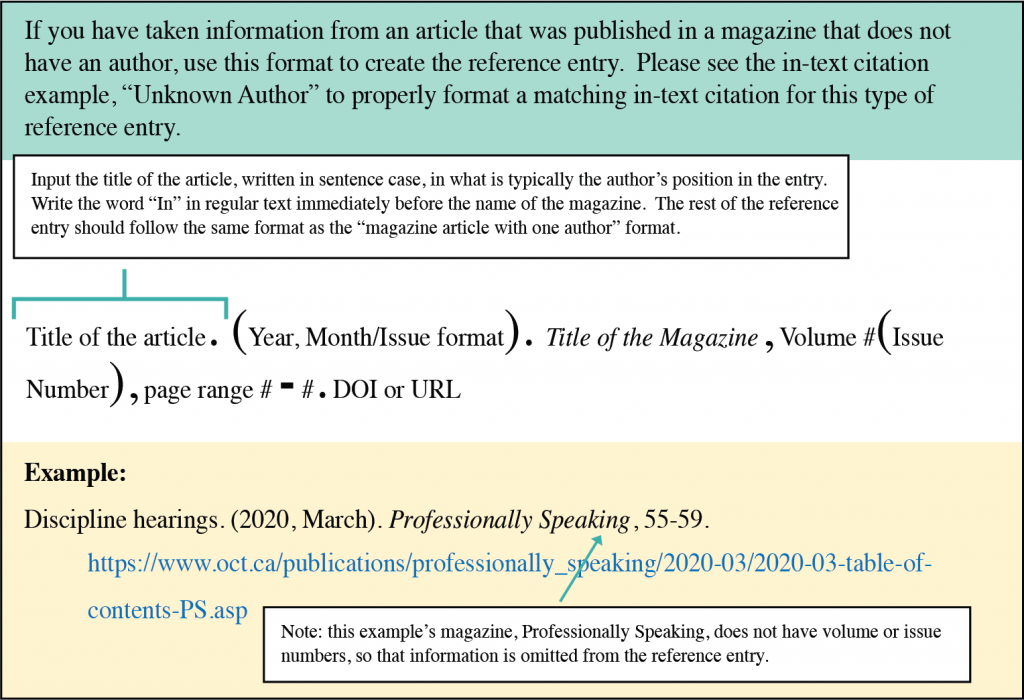 News Publications
Article in a Newspaper
Article in a Newspaper with No Mentioned Author
Article from a News Website
Government and Corporate Documents
Article/webpage on a Government / Government Agency / Organization Website
Report by Government Agency or Other Organization
Brochure by a Government Body or Organization
Reference Materials
Dictionary / Encyclopedia Entry
Websites
Webpage Article from a Website with an Individual Author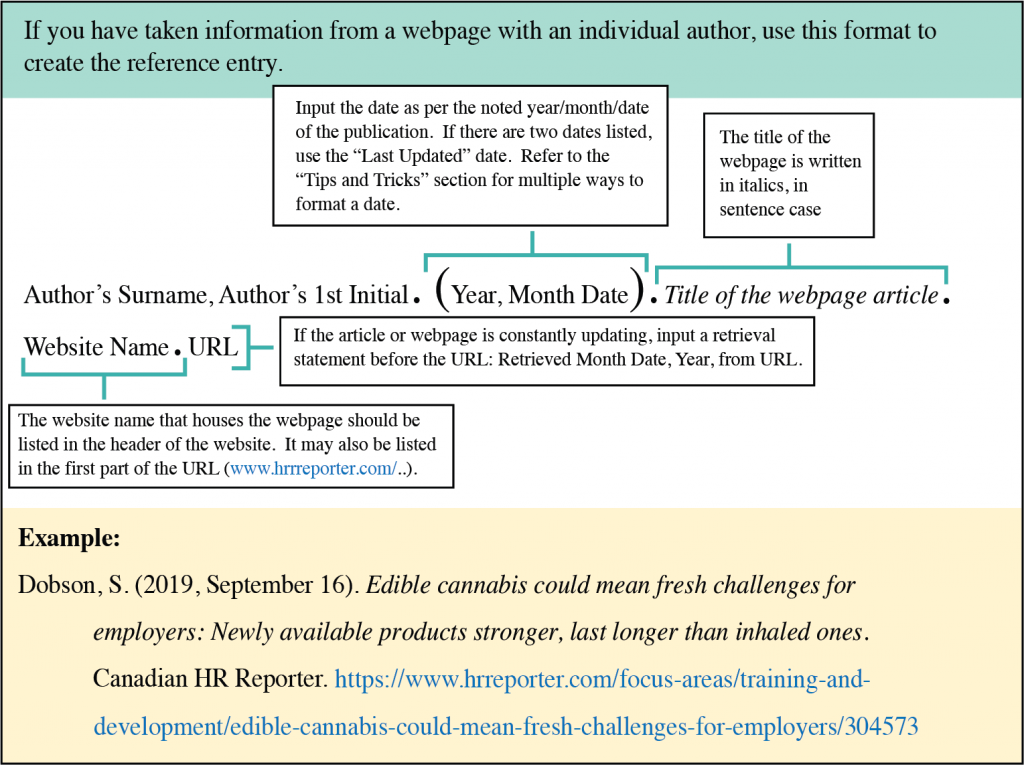 Webpage Article From a Website With a Group Author
Webpage Article From A Website With No Date
Webpage Article from a Website That is Designed to Constantly Update
Visual Media & Audio-Visual Media
Graphic (Complete) From A Source
Infographic
Film / Video
Image / Photograph
Podcast Episode in a Series
TED Talk
Social Media & Blogs
YouTube Video
Twitter or Instagram Post
Facebook Page
Internet Forum Post
Blog Post
Legal References
Treaty
Provincial Law or Act
Provincial (State) Supreme Court Decision
Federal Law or Act
Federal Supreme Court Decision
References
American Psychological Association. (2020). Publication manual of the American Psychological Association (7th ed.). https//doi.org/10.1037/0000165-000